KidzPoint is a ministry of Hikes Point Christian Church dedicated to serving families of children Birth-5th grade. We provide a variety of engaging, kid-friendly programming tailored to meet the developmental and spiritual needs of all children. Our desire is to partner with parents/grandparents to meet children where they are and to draw them closer to Christ and one another.
KidzPoint programming is available on Sunday morning during our 10:00 AM and 11:30 AM services.
Our nursery provides a safe and nurturing environment where Christian compassion and servanthood are demonstrated as we plant the seed of learning about God's love. A private nursing room is located near our KidzPoint check-in area for the convenience of nursing mothers.
Each week in our toddler room we strive to present Biblical truths in creative and memorable ways. Songs, Bible stories and other age-appropriate activities are presented by KidzPoint volunteers.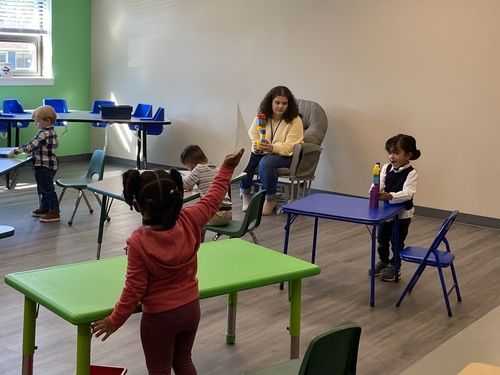 Birth- 3 years
4 years - 5th grade
Our preschool and elementary classes of KidzPoint experience age-appropriate and engaging Bible instruction each week along with the opportunity to worship through song and prayer. We seek to partner with parents in modeling loving, Christian relationships and when ready, we will help guide your child toward accepting Christ as their personal Lord and Savior and to be baptized.

Our preschool/elementary class are grouped into the following:
•4-5 year olds (PK)
•Kindergarten-1st grade
•2nd-3rd grade
•4th-5th grade
Your kids are your most prized treasures. Because of this, their safety matters to the KidzPoint Ministry Team. In order to maintain a safe and secure environment at Hikes Point Christian Church for your kids and everyone else, it is important that we all work together to follow the proper check-In and check-out procedures that are in place.

Every child's ID sticker is matched to a parent-identification number, every volunteer is screened with an interview and background check, and every hallway is monitored by security personnel.
Interested in serving in KidzPoint?
We are always looking for mature, passionate followers of Jesus to serve in various roles of KidzPoint. We believe working with kids is an honor and would love to involve you in making disciples of the next generation. Our heart for parents at Hikes Point Church is for them to be engaged and serving on the KidzPoint Ministry Team, enabling the parents to use their time and talents to love our kids and point them to Jesus. If you are interested in serving in this ministry please contact Erin Stewart.